Precision laser cutting of the highest quality metal parts at rapid speeds
High quality metal parts laser cut at rapid speeds
Industries demand the highest quality metal parts laser cut at rapid speeds, always keeping costs down but productivity speeds up. As one of the South East's leading sheet metal sub-contractor of laser cut profiles, we provide an effective laser cutting solution that exceeds our customers' expectations when it comes to quality, cost and speed.
The laser cutting process is unrivalled when it comes to an efficient, fast and precise result, especially when compared with other methods of cutting. Thanks to our high-volume fibre laser cutting capabilities, we're the ideal production partner for a range of sectors that require a dependable service, including architecture, construction, marine, food and medical.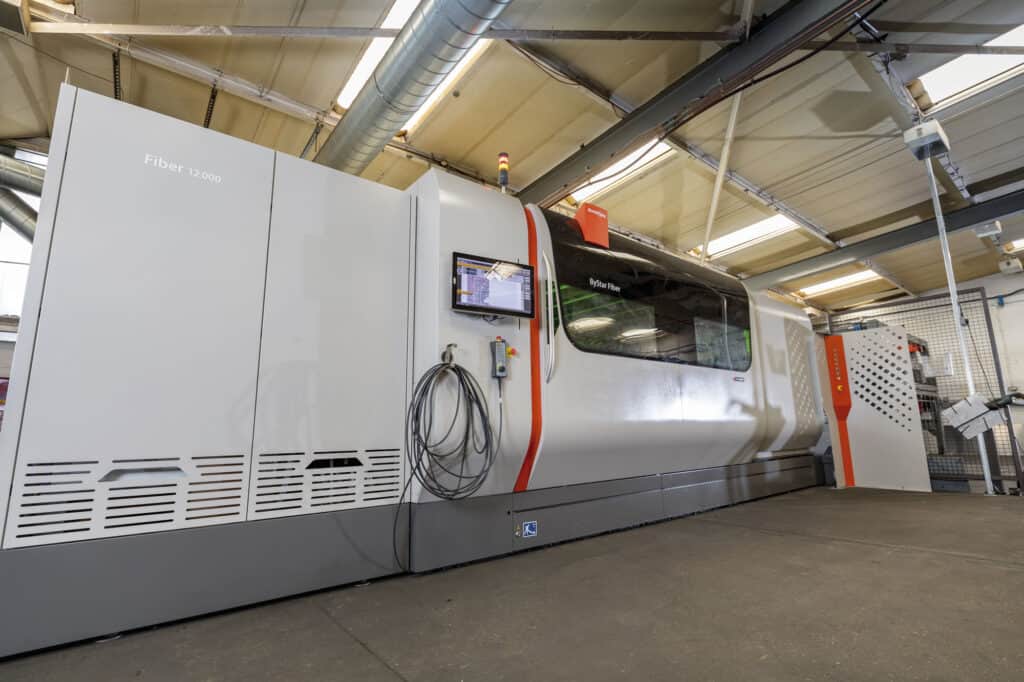 Laser cutting metals up to 30mm
Our specialist programmers and operations work with world-class laser cutting equipment, including one Bystronic ByStar 10kW and one Bystronic ByStar 12kW Fiber Laser, which both make light work of laser cutting projects, large and small. In fact, we are one of the only sheet metal sub-contractors in the UK that can cut mild and stainless steel up to 30mm, aluminium up to 30mm, brass up to 15mm, and copper up to 12mm thick, all with a superior edge quality.
To support the laser cutting process, we have invested in smart factory automation, relying on the impressive Bystronic ByTrans Extended to run operations 24/7. This results in us being able to process your jobs faster, deliver cuts with more accuracy, and follow a more automated machine system that relies on less input from the machine operator.
Laser Cutting Specifications
High power 10kW and 12kW fiber laser cutters
Extremely cost and energy efficient
Handles large projects and high volume jobs with ease
Custom cuts with precise detail for industry use
Effortlessly cut a range of metals including steel, aluminium and copper
Expert team to create drawings / CAD and bespoke solutions
All we need is your project requirements to get started. We can advise on the best material for your job, and we can also support you when it comes to your drawings – just speak to our sales team for more information or check out our comprehensive FAQs.
Once approved, we'll get your job completed
Arrange your delivery options
"The Laser 24 team are an absolute pleasure to work with and cannot do enough to help, which is exactly the attitude we need from a partner in this fast paced, challenging world."
"Easy ordering system, great quality parts with great turnaround times. our first choice for flatbed steel cutting"
"Laser 24 deliver on time, every time. They are efficient, any request is never an issue and they are extremely approachable. Laser 24 are one of our only suppliers who are happy to go that extra mile."
"As for feedback for service, very good same day quoting and all the parts we have had from Laser 24 up to now have been of a very good standard. Thank you"
READY TO GET YOUR NEXT PROJECT STARTED?
You're guaranteed a fast response from Laser 24.
Contact us today and receive a competitive quote on your next laser cutting project.