A dedicated press braking services to complement our world-class laser cutting capabilities
High quality metal parts folded and bent to your specifications
Press braking is a process that folds and bends a range of metals to your specifications. Here at Laser 24, we offer dedicated press braking services to complement our world-class laser cutting capabilities.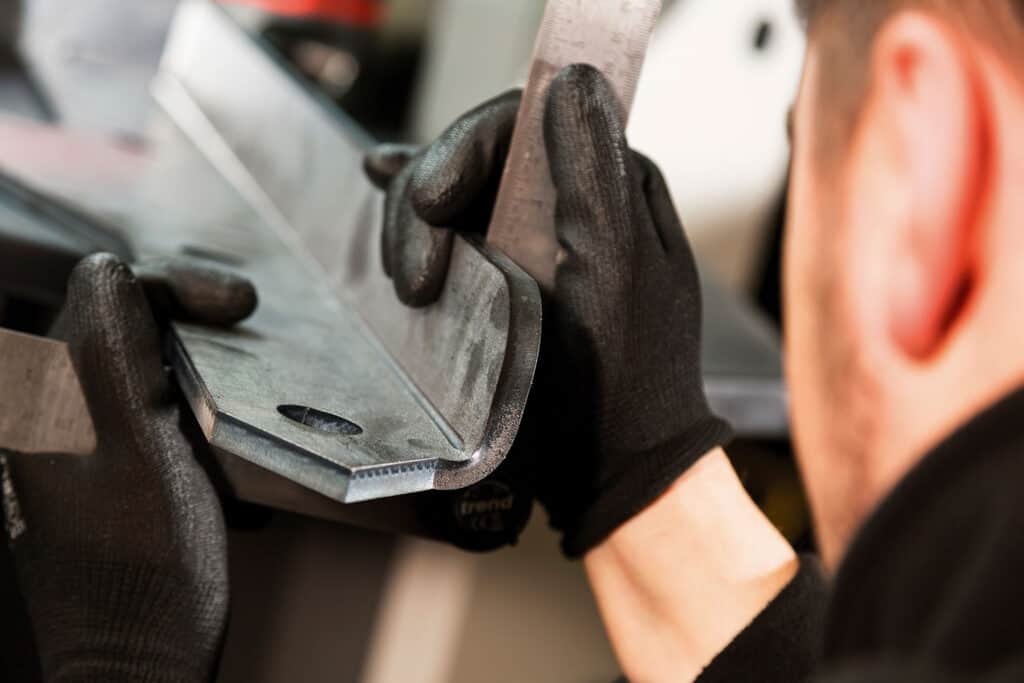 Metal takes new forms with our high speed folding and bending capabilities, making up all the parts you need for any project. We work with the Bystronic Xpert 80, an accurate and economical press brake that boasts some of the highest folding speeds in the industry. The Xpert 80 has a press capacity of up to 80 tons to offer a wide range of applications, and uses a highly accurate, zero-handling method that is non-abrasive to the metal. Combined with our SolidWorks and BySoft7 programming systems, the Xpert 80 offers a metal bending and folding service that you can rely on every time.
Plus, with Laser 24, you can easily streamline your metal profiling requirements as we offer both laser cutting and press braking in-house, which will reduce your lead time and can even save you money on your project. Our press brake has specifically been developed to reduce electric power consumption by up to 30% during use compared to other industry equipment, which ultimately results in further cost savings for our customers.
Press Braking Specifications
Super-speed press brake machine
Bend and fold a range of metal sheet materials for industry use
Range of metal materials, including mild steel & brass
Expert press brake operators for custom solutions
With STP drawings, we can import and calculate accurate data
All we need is your project requirements to get started. We can advise on the best material for your job, and we can also support you when it comes to your drawings – just speak to our sales team for more information or check out our comprehensive FAQs.
Once approved, we'll get your job completed
Arrange your delivery options
"The Laser 24 team are an absolute pleasure to work with and cannot do enough to help, which is exactly the attitude we need from a partner in this fast paced, challenging world."
"Easy ordering system, great quality parts with great turnaround times. our first choice for flatbed steel cutting"
"Laser 24 deliver on time, every time. They are efficient, any request is never an issue and they are extremely approachable. Laser 24 are one of our only suppliers who are happy to go that extra mile."
"As for feedback for service, very good same day quoting and all the parts we have had from Laser 24 up to now have been of a very good standard. Thank you"
READY TO GET YOUR NEXT PROJECT STARTED?
You're guaranteed a fast response from Laser 24.
Contact us today and receive a competitive quote on your next laser cutting project.